REACT "A": Custom Satisfaction Surveys
REACT A or REACT Advantage has been specifically designed to provide valuable feedback and performance improvement solutions for those unique situations that require a Custom Solution. It is often the feedback and insights generated from very specialized market intelligence that enables the user of REACT A to achieve a competitive advantage. When you want proprietary information to achieve an operating, financial and marketing edge, REACT A is your solution.
REACT A

SPECIALTIES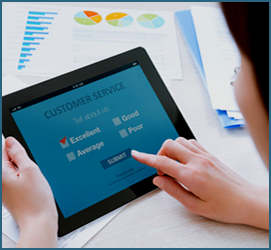 CEL & Associates, Inc. establishes programs and comparative data for the following:
CEL & Associates, Inc.'s REACT A is most frequently used for the following types of surveys:
Demographic Analysis
Feedback on New Products/Services
Feedback on New Design, Features and Amenities
Quantifying New Market Opportunities
Assessing the Success/Impact of an Initiative
REACT A

FEATURES
During our investigation into your needs, we'll pinpoint the exact assessments and appropriate plan(s) you will need to achieve your goals. Plus…we will create a reporting package that is just right for your specific needs.
REACT A

BENEFITS
Personalization is the key. Assemblage of proprietary information and unique insights.
REACT A

REPORTS
CEL has a variety of reporting options, and we tailor your REACT Plan and reporting package to meet each individual client's needs.

.
Resident & Tenant Satisfaction Surveys • Client Satisfaction Surveys • Employee Satisfaction Surveys